Building sustainability into your social enterprise
How one social enterprise is helping children from challenging backgrounds through a sustainable model around education and business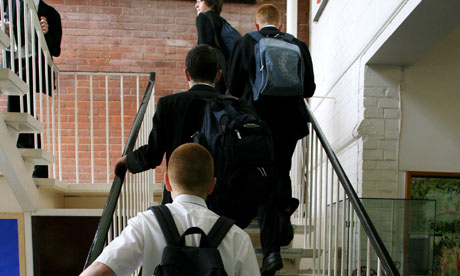 Arrival Education takes young people from challenging backgrounds and gets them to help develop programmes for businesses, who in turn develop them. Photograph: Chris Ratcliffe / Rex Features
I was working in the corporate world when we first started Arrival Education in 2003. The original motivation for setting up the business was to make a difference to young people from challenging communities, after my flatmate's brother was murdered in a street incident. I began on a voluntary basis, delivering youth programmes around work commitments.
I wasn't quite ready to give up the financial security of corporate employment, so over a three year period I combined my day job with delivering change programmes for young people. This was until I had the confidence (or perhaps because of frustration) to leave salaried employment in 2006.
I spent a year in an inner-city academy, road-testing concepts and obtaining experience. In order to fund this research period, I sourced funds from businesses, including The Economist and Artemis I was also paid a small fee by the school and I got a tax rebate that year too; enough to survive, just.
Gap in the market
It became apparent that there were opportunities, both in schools and within the businesses that I had worked with.
I realised that with the right efforts, we could shift the behaviour of young people, many of whom would be considered difficult by the school while at the same time offering exceptional development services to the corporate community. They in turn would pay a premium to be developed by us, using the young people on our programmes, who themselves were being developed.
We were on to something. We were attempting to develop a zero-waste trickle down development programme that guaranteed social mobility. We set about designing our marquee programme – Success for Life; a four year talent development programme that focuses on influential young people from challenging communities.
We got our initial break by being the first organisation on The Young Foundation's Learning Launch Pad, which supplied funding and input. We then signed up pilot schools and businesses, focusing on their corporate social responsibility (CSR) budgets.
Business model
We had two core client groups; schools, who buy based on need, and corporates who want to buy quality services, delivered well and with (managed) access to (the right sort of) young people.
Corporates
Over the last four to five years, we have enhanced our value proposition to businesses, while simultaneously increasing their spend. For instance, we started by requesting £2,200 for an annual subscription, to obtaining nearly £100,000 from a single client in one year.
This has been achieved, not by asking for charitable support (there is little of that sort of money left anyhow) but by offering products and services that they want, which we can deliver on, while also meeting and funding our social objectives.
The key to del
ivering this is the long-term, high-impact nature of the programme. Short-term interventions rarely deliver results. It's all very well doing trips to the Lake District, but so what?
As we have matured, businesses began to employ us to develop their talent through their Learning and Development (L&D) budgets, which tend to be bigger but more target-focused than CSR. We also offer the added value of meeting both CSR and L&D needs through our programmes, creating a two for the price of one offering.
Corporates buy our products because we deliver the right sort of services, in the right way, which means we understand their constraints and needs. By offering a suite of products, be they workshops, coaching programmes, events and seminars, we can meet their requirements while mapping those experiences against our long-term programmes.
Businesses get tremendous value from our services, content, delivery methods and of course engagement with the young people who have amazing back stories who are turning into super-stars.
We try to make it easy for businesses to sign up and engage with us and we know if we don't do a good job they stop working with us. We see ourselves as a service based business.
Schools
Schools on the other hand buy our services because we produce results with the right sort of students in a way that works for the school. We keep children in school, we improve their behaviour and we increase their grades. We also develop their capacity to deal with challenge and success, and because of that success with young people, we built a suite of other schools services, including teacher training.
Schools find us invaluable, as we create such significant and long lasting change both for individuals, as well as the broader school culture because of the type young people we focus on.
In regards to Success for Life, schools pays for about half the true cost, businesses subsidise the rest after the service costs are subtracted.
Additionally, over this pilot period, we were invited to design and deliver some very interesting and exciting programmes which helped us fund Success for Life, including The Green Talent Fellowship, which we did in partnership with The Eden Project and Talent Task Force, which Gordon Brown, the then prime minister, launched.
Next stage
As we have delivered on the social impact, our reputation has grown, which means more confidence in our proposition and which we've converted into pricing. When we began, we were just about getting clients in order to obtain the necessary experience.
Now we have a groundbreaking high-impact, zero-waste development model and a talent pipeline, where the older students (paid by us) develop the younger students, who are simultaneously being developed by business professionals, who pay for that process/experience.
The young people stay on the programme because of the quality, authenticity and the aspirational nature of the experience. I have always found that young people vote with their feet.
That success was reflected in winning a place on UnLtd's Big Venture Challenge as we seek investment to scale up our operation, transitioning from a pilot of passion into a high impact growth business.
Five tips
1. Never stop. It will get very hard. You will want to quit.
2. Don't expect a lot of salary in the first few years. You may have to put certain things on hold.
3. Say goodbye to people in your business if they aren't right. It's less painful in the long run.
4. Be careful about who you listen to. Everyone has well meaning advice, and yet you must keep your mind open too.
5. Know your business – ss your social enterprise sustainable? Will someone actually pay for your services (vs you hope they will) and does it have a real impact? There are a lot of businesses that aren't social and there are a lot of socials that aren't business.
Daniel Snell is the founder of Arrival Education and blogs at http://arrivalworldwide.blogspot.co.uk
This content is brought to you by Guardian Professional. To join the social enterprise network, click here.