35 Women Under 35: Meet your next boss
By Emma De Vita Sunday, 07 July 2013
MT's 2013 line-up of brilliant young talent are set to grab the helm of UK plc.
This year's group of 35 Women Under 35 are the myth-busters of business; shaking up the perceptions of what it takes to be a leader in every sector, from Premier League football to mining,  to engineering and technology.
No, you don't have to be a foul-mouthed autocrat like Sir Alex Ferguson or a socially inept male geek to make it to the top of some of the UK's most competitive businesses.
Instead, as our women show, so long as you are ferociously intelligent (all our five cover stars went to Oxbridge), hard working, ambitious and confident, it doesn't matter whether you wear a skirt or trousers, have a beer belly or a pregnant bump.
The only judgement MT makes of the 35 women listed here is how talented and ambitious they are…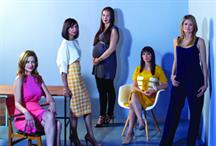 [Article abridged. Read full article here]
ONES TO WATCH
EKATERINA IGUMENTSEVA, 27
Russian-born Igumentseva was a City high-flyer until she came across 'superfoods'. After postgraduate study at Cambridge in developmental economics, she decided to combine both her interests to launch Organic Burst in 2012, selling supplements made from such superfoods as acai berries and baobab. Organic Burst has already won four awards and is supplied to more than 100 stores in the UK.
KELLY KLEIN, 33
Former private banker Klein left JP Morgan to start student-staffed tech support company Student@Home in 2012. The social enterprise employs 60 IT students at university to tackle tech problems at several hundred homes and small businesses across London. Students benefit from well-paid, flexible work and experience, while small businesses benefit from a cost-efficient support service.
ANNA MCKAY, 32
The Cambridge graduate spent her early career at Ernst & Young before spotting a gap in the market for time-poor, sleep-deprived City professionals in need of wellbeing advice and support. In 2011, she decided to set up Spinach Health & Wellbeing, which delivers tech-supported health programmes to individuals and teams, and now counts E&Y, Bain Capital and the Home Office among her clients.