A new breed of social enterprises are relieving education of budgetary burdens and providing inspirational experiences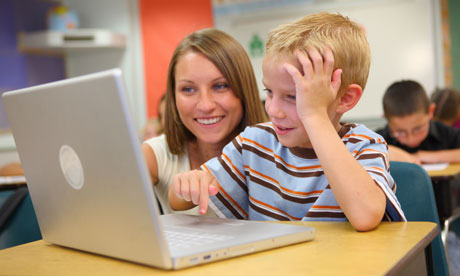 Social enterprises are using technology to innovate and educate. Photograph: Alamy
Education may not always be thought of as an innovative sector but as schools increasingly look to relieve budgetary burdens and provide inspirational education experiences, a new breed of innovative social enterprises are emerging that can help on both counts.
New technology is an area that is arguably easier for a small social enterprise to innovate than an entire school or local authority. Excite-Ed was launched by Julia Bateson in 2011, following training at the School for Social Entrepreneurs after her redundancy as a local authority adviser for study support and extended learning. Excited-Ed works within schools helping children (and teachers) create computer games that teach both digital and social skills. Bateson said: "Everyone can see the pace, growth and influence of digital and social media and as a former teacher and a parent to two young children I felt passionate about creating a social enterprise that would empower children in schools to apply their digital 'expertise' in the form of learner led innovation."
One app game CyberSafe, funded by the Big Lottery and produced in partnership with 12-15-year-old students, addresses the issue of cyber-bullying. "Most schools … are not confident teaching digital literacy because they think they don't know enough about it. Gaming is fun, mobile, and inter-generational, it brings people together so we use it to tackle these issues."
As well as offering something to schools that they are unlikely to be able to produce internally, Bateson believes the work she and other social enterprises are doing are pointing towards a new model within education. "I see the future as being one of partnerships developed between schools and social entrepreneurs. In these times of austerity, moving to a more autonomous structure, away from local authority control, headteachers have been rightly cautious and prudent about spending money. But if social entrepreneurial partnerships are to flourish to the benefit of children and their families two things must happen: social entrepreneurs must clearly demonstrate their social impact and schools are going to have to spend."
Night Zookeeper is another social enterprise using gaming technology. "Night Zookeeper helps children invent their very own magical animals", explains chief executive Joshua Davidson, who came up with the idea for primary schools while studying an masters degree in digital art. The project attracted investor from a number of angel investors and Telefonica O2, as well as being selected as part of UnLtd's Big Venture Challenge. "We develop young imaginations, raise literacy standards and improve confidence and self-belief. Our latest app Night Zookeeper Teleporting Torch sends children daily creative 'missions'. These include things like drawing the ocean without the colour blue … As well as receiving missions from us, parents and teachers can invent and send missions of their own on nightzookeeper.com so the possibilities really are endless."
Like Bateson, Davidson also believes there is more than enough room for social enterprises within state education: "The potential for innovative social enterprises within the primary school sector is huge. If you look at the US, it has been a massive area of investment … I hope Night Zookeeper will pave the way for more interaction between businesses and schools."
Away from the cutting-edge technologies, innovation can also be found within more traditional educational experiences. Pete Carthy, a former primary schoolteacher, was inspired by the Forest Schools concept to set up BEES in the Scottish borders. "We do teacher training, outdoor learning, vegetable gardening and outdoor experiences for kids and climate change education," explains Carthy. "We work with disaffected teenagers [and] have a volunteer programme training up unemployed people … that means we've got more capacity staffing wise."
Another programme helps estranged fathers and sons to bond over "Ray Mears-style" woodland activities. Innovating, Carthy argues, must involve a combination of imaginative pilot schemes and formal assessment of what is working and what isn't. "One of the things I've realised over the years of running a social enterprise," he says. "is the importance of research and development – without that you just can't move forward".
Finding a model that works is something that Tom Ravenscroft, managing director, Enabling Enterprise, has invested a lot of time into. "I taught through the Teach First programme at a challenging school in Hackney," says Ravenscroft. "While I was teaching there, I was increasingly worried that my 14- and 15–year–old students simply weren't going to be ready for the real world and I also felt that the business studies course I was teaching wasn't really engaging or exciting them."
Starting with the simple idea of taking groups of students to visit local businesses, Ravenscroft then brought the ideas back into the classroom and got groups of students to set up their own live small businesses. "Out of that class, all bar one achieved five good GCSEs, more than half the students achieved a top grade on their business studies course, and many went on to study business."
Enabling Enterprise was then born, sharing the course materials that Ravenscroft developed with schools and teachers, "embedding enterprise and careers into the curriculum, rather than seeing it as an add-on".
This has also moved into primary education, with 15 primary schools in 2013 now using lesson-time projects for an hour per week with every child. "Crucially, we don't try to deliver every programme in the classroom ourself," says Ravenscroft. "This is how, with a team of 10, we've been able to reach over 20,000 children this year alone."
As well as a passion to innovate, something else unifies the social enterprises featured here. They are all run by ex-teachers. Davidson, whose co-founder and education director Paul Hutson is a former primary schoolteacher, argues that "teachers are, in some cases, rightfully distrustful of lots of education businesses.
It is vital that new education technology companies either employ or are founded by actual educators." This belief will certainly be tested as innovative social enterprises compete with the private sector as schools increasingly turn to contractors.
This content is brought to you by Guardian Professional. To join the Guardian Social Enterprise Network, click here.
via Social enterprises aid innovation in education | Social Enterprise Network | Guardian Professional.